Ni-MH Battery Charger
for 10-20 Series Battery Packs
Designed to charge 10 -20 series Ni-MH battery pack.


※Please contact us if you have a request in regards to other series.

Offers most suitable charge control.
Includes refresh discharge function.
Includes overcharging and overheating prevention function.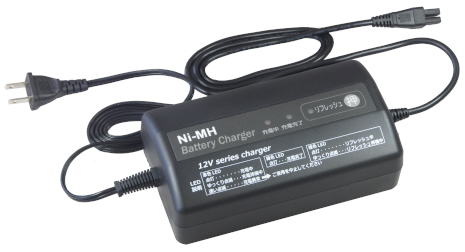 Item
Contents
Input
AC100 to 240V 50-60Hz
Rating Output Voltage
10 Cells: DC14V 20 Cells: DC28V
Charging Current
1.65A (Constant current)
Charging Time
Approx. 2 hours (Capacity: 3200mAh)
Approx. 2.5 hours (Capacity: 4000mAh)
Charging Control
-⊿V, battery temperature detection, timer
Refresh Discharge Function
Refresh discharge time:
Approx.9 hours (Capacity: 3200mAh)
Item
Contents
Indicators
Charging: Red light
Fully charged: Green light
Refreshing: Orange light
Error: Blinking red light
Safety Approval
PSE
Dimensions
170(L) x 95(W) x 59(H) mm
Weight
600g
Operating Temperature
0°C to +40°C
Storage Temperature
-20°C to +60°C
Charging Method
Charging
Method
Constant current charging
Main charging
Maintenance charging
Quick charging
Low rate charging
Pulse current charging
Intermittent charging
Peak voltage control charging
dT/dt control charging
-⊿V control charging
Timer control charging
Overview
V : Battery voltage
I : Charge current
T : Battery temperature
①Main charging
②Storage (Self-discharge)
③Maintenance charging
Terminate charging by detecting battery peak voltage
Terminate charging by detecting battery temperature rate
Terminate charging by detecting specified battery voltage drop after peak voltage
Terminate charging by counting elapsed time
Charging by pulse current to compensate self-discharge after main charging to keep fully charged state
Charging intermittently after main charging to return to fully charged state (Factor of recharging: battery voltage, elapsed time)
Charging Time
1 to 2h
1 to 2h
1 to 2h
11 to 12h
-
-
Charging Current

※1

0.5 to 1.0It
0.5 to 1.0It
0.5 to 1.0It
0.1It
1/20 to 1.0It
(Avg. 1/500It)
1/20 to 1.0It
High Durability Type
◎
◎
◎
-
○
○
High Capacity Type
◎
◎
◎
○
◎
◎
Standard Type
◎
◎
◎
-
○
○
Dry Cell Compatible Type
◎
○
◎
○

※2

-
○
◎ Recommended : Suitable to exhibit battery performance.
○ Available : Can be used depending on the specification of equipment.
1It [A] = Rated capacity [Ah] / 1 [h]
Proper charging method and charging condition are depending on the specification/usage of equipment or structure of battery pack.
Please contact us for details.
※1:Charging current is just a reference, please contact us for details.
※2:Some charging methods should not be applied to dry cell compatible batteries regardless of equipment specification. Please contact us for details.
The contents of this catalogue are not guaranteed.