When batteries are used in equipment, most instances are as battery packs or battery systems. FDK has a wealth of experience with battery packs, as well as both custom designed and standard battery systems. We design and manufacture with consideration of battery safety and reliability for each application.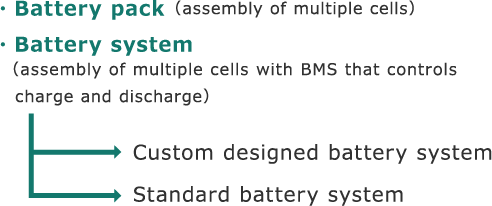 Incorporating Battery Packs
Standard Configuration
When using batteries in equipment, battery model, number of cells and shape will differ depending on rated power, space and usage conditions of equipment.
Connection shape

Terminal direction

Battery Pack Shape Example
FDK can produce battery packs with various shapes according to usage. Our cases can be made from heat shrink tubing, resin, metal etc. Please consult us regarding the electrical wiring and terminal types.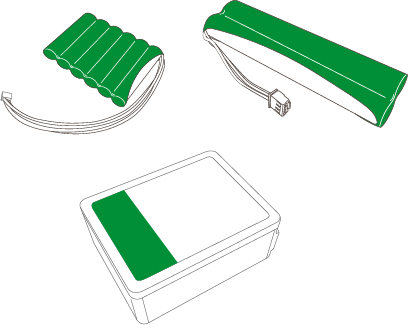 Safety Device
When designing an assembled battery, it is necessary to install a safety device in case of charger failure and external short circuit. FDK recommends that the following parts are built into the assembled battery.

Usage of Battery Packs
Our products are used in various applications such as in-vehicle applications, emergency lighting, home-use, etc. Please contact us about the usage of applications, ambient temperature, charge and discharge conditions, etc.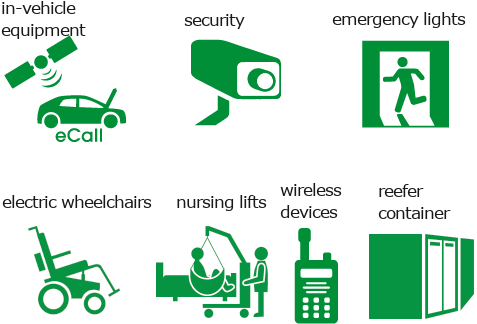 Battery System
FDK save our customers' development resources by providing batteries with control functions according to the application.
Our battery packs include a battery management system (BMS) that controls charging and discharging. This brings out the best performance of Ni-MH batteries and contributes to improving the function of our customers'products while reducing development time.
Battery Management System
FDK's BMS is an original system that has functions to control charge and discharge, as well as diagnose and predict battery life etc.
Battery Management
■ Charge/discharge control
Prevents over-charge and discharge, and minimizes
battery performance degradation
■ Self-diagnosis function
Diagnosis of charge circuit and discharge circuits
High reliability (internal resistance and self-discharge rate)
through battery diagnostics
■ Lifetime prediction function(Options)
Capable of predicting battery lifetime through usage and
environmental history and giving advanced notice
Custom Control Function
Development Example
①Low temperature charge control
function for cold regions
②Lifetime prediction function to reduce
the number of battery replacements
③Charge control function with built-in
charge circuit
Custom Designed Battery System
Our battery systems have achieved use in many applications requiring high reliability such as medical equipment, infrastructure, and information equipment.

Standard Battery System
We offer standard battery systems with DC12V, DC24V, and DC48V input and output.
Model
BBUS-100012-01

BBUS-122024-02

BBUS-921048-01

BBUS-192048-01

Output Voltage
DC12V
DC24V
DC48V
Capacity
10Wh
1100Wh
920Wh
1900Wh
Output current/power
50W
30A
45A
1kW
Dimensions
W 101mm
D 150mm
H 20mm
W 300mm
D 420mm
H 150mm
W 375mm
D 235mm
H 191mm
W 448mm
D 460mm
H 85.8mm
Approx. Weight
460g
25kg
19.5kg
31kg
Utility
Power supply backup for industrial computers and surveillance cameras

Power supply backup for railway signal equipment, and surveillance cameras

Power supply backup for base stations, and surveillance cameras

The contents of this catalogue are not guaranteed.