Features
Low self-discharge rate and long life.
Self-discharge : Approx. 1% per year at room temperature.
Usable over wide temperature range.
Operational temperature range
: -20°C to +60°C (-4°F to +140°F)
(CR-1/3N, 2CR-1/3N)
: -20°C to +70°C (-4°F to +158°)
(other models)
UL recognition (File No. MH13421)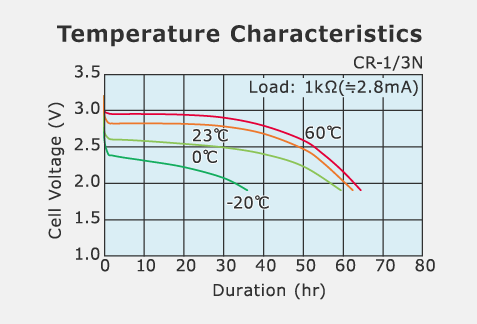 Applications
Electronic notebooks
Electronic automobile keys (keyless entry)
LED-related devices
Memory backup power source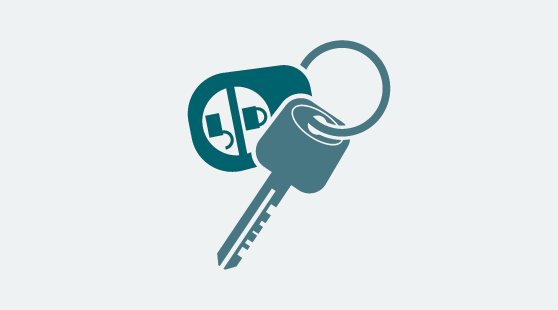 Other
Available with secondary processing (multiple cells, tabs, connectors, etc) in accordance with use.
Nickel-plated phosphor bronze or stainless steel should be used for battery contact terminal materials.
To ensure stable contact conditions, contact pressure of several newtons is recommended when attaching.
Specifications
Model

CR1220

CR1620

CR2016

CR2025

CR2032

CR-1/3N

2CR-1/3N

In accordance with
IEC standard nomenclature
1220
1620
2016
2025
2032
11108
-
Nominal Voltage
3V
3V
3V
3V
3V
3V
6V
Nominal Capacity

※1

36mAh
80mAh
90mAh
170mAh
240mAh
160mAh
160mAh
Standard Discharge Current
0.1mA
0.1mA
0.2mA
0.2mA
0.2mA
2.7mA
2.7mA
Dimensions
Diameter
12.5mm
16.0mm
20.0mm
20.0mm
20.0mm
11.6mm
13.0mm
Height
2.0mm
2.0mm
1.6mm
2.5mm
3.2mm
10.8mm
25.2mm
Approx. Weight
0.8g
1.3g
1.7g
2.5g
3.0g
3.3g
9.1g
Data sheet
※ Expected life is 5 years at room temperature.
Expected life is reference only and is not intended to imply any guarantee or warranty. Actual life depends on condition of use.
※ Consult with FDK when considering connection method and multiple-cell configuration.
※1 Nominal capacity is determined at an end voltage of 2.0V (4.0V for 2CR-1/3N) when the battery is allowed to discharge at a standard current level at +23°C.

The contents of this catalogue are not guaranteed.