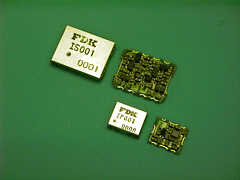 FDK CORPORATION has developed and commercialized two new series of VCO (Voltage Controlled Oscillators) models. These are IP and IS Series, and are added to FDK's existing VCO lineup of the IF, IL, IN, and IM Series. All have a glass epoxy substrate. The IP Series boasts a super compact size (4.8 x 5.8x 1.6mm) enabled by the use of triplet strip lines as resonators, and is suited for compact cellular phones. The IS Series features an intensive package (8.0 x 10.0 x 1.8mm) of two VCO units combined into one,and is focused on dual band compatibility. Drawing on superb high-frequency circuit designing and microwave material know-how, our VCOs are already serving many cellular and handy phones. The six Series of our VCOs, all low-priced and covering a wide range from 400MHz to 2.9GHz, are the best choicefor mobile communications devices and other wireless equipment.


Applications
Model name
Oscillation frequency
(1MHz)
Supplied voltage
(V)
Controlled voltage range
(V)
Controlled voltage sensitivity
(MHz/V)
Power consumption
(mA max.)
Oscillation output
(dB min.)
C/N
(dBC min.)
GSM/PCN
IP**
1201±39,0
2.7
0.5-2.2
68±14
10.0
-2.0
147(20M)/Hz
IP**
1559.5±38,5
2.7
0.5-2.2
68±14
10.0
-2.0
147(20M)/Hz
GSM900
IS**
897.5±17,5
2.7
0.5-2.2
37±7.0
50.0
+11.0
162(20M)/Hz
DCS1800
IS**
1747.5±37,5
2.7
0.5-2.2
75±14
50.0
+8.0
151(20M)/Hz
The numbers in parentheses in the C/N column indicate non-tuning frequencies in Hz.