Cumulative production of Nickel-Metal Hydride Batteries reaches 5 billion cells
---
Sept. 28, 2023
FDK CORPORATION
FDK CORPORATION (Tokyo Stock Exchange Standard Section: Code 6955) achieved a cumulative production total of 5 billion cells at its Takasaki plant (Takasaki, Gunma, Japan), which manufactures nickel-metal hydride battery in September, 2023.

Nickel-metal hydride batteries are used in a wide variety of applications including security, in-vehicle applications, medical and household appliances. To date, FDK nickel-metal hydride batteries for consumer use (*1) have the No. 1 share (*2) in the global market.

Takasaki plant began production of nickel-metal hydride batteries in October 1991 (*3) and celebrated its 32nd anniversary in September of this year. Since the start of production, the Takasaki plant has not only improved the performance and quality of its nickel-metal hydride batteries, but also pioneered environmental activities within the FDK Group in 2010 by using electricity created by solar power for the initial recharging of batteries and for general use within the plant. A further milestone was achieved when FDK successfully developed a suitable battery which allowed entrance to the market for backup applications for in-vehicle communication equipment. Strict requirements and conditions of environmental temperature and service life were necessary to overcome. In addition, FDK continues to engage in various initiatives, such as sponsoring eco-friendly live music concerts.
Thanks to these efforts and to the patronage of many customers who appreciate the features, performance and high quality of FDK's nickel-metal hydride batteries, FDK have steadily increased production to reach the 3 billion cells total milestone in 2011 and have now reached a cumulative production volume of 5 billion cells.

FDK nickel-metal hydride batteries are manufactured in Japan to ensure safe and reliable use in all applications. High quality is achieved through Japanese craftsmanship, with a focus on precision and an eye trained to detail. Nickel-metal hydride batteries are highly attractive to a worldwide market striving to achieve individual SDGs (Sustainable Development Goals) as the solution of offers a product with high recyclability. FDK will continue a dedicated approach to this battery development, production and various initiatives to achieve the next milestone: 6 billion cells until 2029.

FDK, as a Smart Energy Partner, will continue to provide customers with proposals for the efficient use of electric energy in a safe and efficient manner by assembling advanced technologies.
| | |
| --- | --- |
| *1: | Intended for electronic equipment and device applications |
| *2: | Nickel-metal hydride batteries (small size) results of 2020. Source: FUJI KEIZAI CO., LTD. "2022 Comprehensive Survey of Battery-Related Market, Volume 1: Battery Cell Market" |
| *3: | FDK began production in fiscal year 2009 |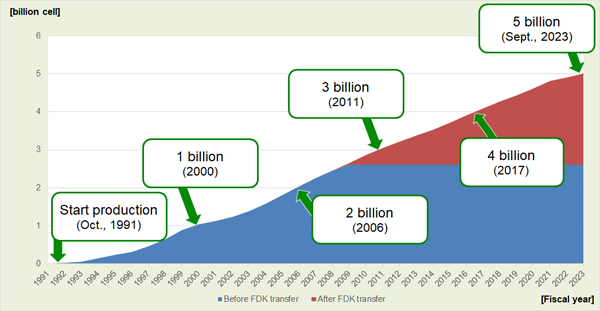 Cumlative production
| | | |
| --- | --- | --- |
| Nickel-Metal Hydride Batteries | | Takasaki Plant |
[Contact]
FDK CORPORATION
Sales Dept. 2, Sales Group
TEL: +81-3-5715-7434
[Close]
---
Terms of Use | Privacy Policy