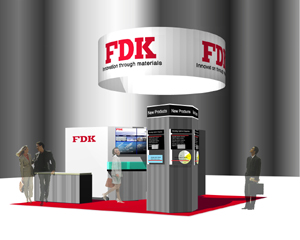 This year, OFC 2002 in Anaheim, California March 17 through 22 will be presenting some very exciting optical systems and technology trends. The commercial program will host over 1000 companies, with numerous product showcase presentations. You'll find FDK displaying a wide assortment of passive optical components for high-speed terrestrial optical links, Metro networks and gigabit-class undersea cable networks. Visit us at booth 6027. And tell us you saw it on the web; see you there !
Exhibit hours
March 19 (Tue), 10:00 a.m. - 6:00 p.m.
March 20 (Wed), 9:00 a.m. - 6:00 p.m.
March 21 (Thu), 9:00 a.m. - 4:00 p.m.
Technical Sessions will be held from March 17 (Sun) to March 22 (Fri), 2002.
Venue
Anaheim Convention Center, Anaheim, California, USA.
Admission
Free (except for Technical Sessions)
FDK booths
20' x 20', No. 6027
FDK products exhibited
Passive optical components employed in high-speed terrestrial optical links, sophisticated Metro Network and gigabit-class undersea optical transport systems. Variable gain tilt controllers, free-space and in-line optical isolators, compact variable optical attenuators, modulation driving optical attenuators, hybrid optical isolators incorporating combinations of isolators, filters, high-isolation circulators, optical switches, and variable optical attenuators with magneto-optical operation. Also, variable optical splitters (1x2), twin isolators, S-band to L-band wideband isolators, compact optical switches, mechanical 2x2 optical switches, compact optical circulators, and CWDM Mux/Demux modules.